Sandwich & A Steinway
Lunch Time Concert Series on select Wednesdays from Noon-1pm at the Steinway Piano Gallery of Milwaukee. Suggested Donation $5.
Wednesday, March 28th Noon-1pm
Julian Rhee
Julian Rhee, 17, is a scholarship Fellow at the Music Institute of Chicago's Academy, a training center for advanced pre-college musicians, and studies violin with Almita Vamos. Julian is a Finalist Winner of the 2018 National YoungArts Foundation and was a featured performer on NPR's From the Top with Host Christopher O' Riley, where he collaborated with internationally renowned ensemble Time for Three at a concert in Jordan Hall, Boston. This past summer Julian returned from a 10 day Tour to Buenos Aires, Argentina and Montevideo, Uruguay as a guest soloist and participated in the Bowdoin International Festival.
Julian is the first prize winner of the 2017 Society of American Musician Young Artist (college age division) Competition, first place winner of LaCrosse Rising Star competition, first place winner of the 2017 DuPage Symphony Orchestra Young Artist Competition in Illinois, first place winner of the 2017 West Suburban Symphony Orchestra solo Competition, The American Opera Society of Chicago Scholarship, first place winner of the 2018, 2017 & 2016 Civic Music Association of Milwaukee Scholarship Competition and the first place winner of the 2017 & 2015 Madison Bolz Young Artist Competition where he competed Live on Wisconsin Public Television (WPT) and Radio (WPR) in the Final Forte.
Julian is also the First Prize winner of; 2016 MTNA National Senior Strings Competition; 2016 Fox Valley Competition; 2015 Milwaukee Symphony Orchestra Young Artist Competition and the Grand Prize winner recipient; 2015 Wisconsin Chamber Orchestra Concerto Competition; 2015 Milwaukee Youth Symphony Orchestra Concerto Competition; 2015 Concord Chamber Orchestra Competition; 2013 Overall Junior Division & 2017 Senior Division of the Walgreens National Concerto Competition; 2012 Junior & 2013 Senior Sejong Music Competition; 2011 & 2013 Madison Symphony Orchestra Concerto Competition; Milwaukee Symphony Orchestra Bach Double Competition at age 7. Julian was the youngest semifinalist of the 2016 William C. Byrd International Competition, two-time semifinalist of the 2016 & 2013 Stradivarius International Violin Competition, 2015 Cooper International Competition, 2015 Johansen International Competition and advanced to the semi-final of 2018 Johansen International Competition to be held this coming March.
Julian has been featured as a soloist with the La Crosse Symphony Orchestra, Pittsburgh Symphony Orchestra, Milwaukee Symphony Orchestra, Madison Symphony Orchestra, Wisconsin Chamber Orchestra in their 2016- 2017 Concert season, Fox Valley Orchestra of Illinois, Chippewa Valley Symphony Orchestra, Menomonee Falls Symphony Orchestra, Concord Chamber Orchestra and he is scheduled to solo with the Wisconsin Philharmonic Orchestra in March during their 2017-2018 concert series.
Julian shares his passion for music by serving in the local community as an assisting artist and mentor of the Wisconsin Intergenerational Orchestra, providing leadership in this newly formed organization. He is a Senior at Brookfield East High School, the Class President and he has recently been nominated as a candidate in the 2018 United States Presidential Scholar.
Wednesday, April 11th Noon-1pm
Stas Vengelvski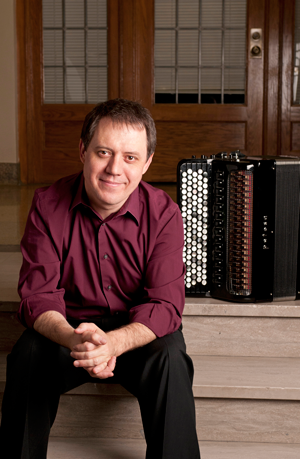 His artistry, dazzling technical command, and sensitivity have brought Stanislav, "Stas," Venglevski, a native of the Republic of Moldova, part of the former Soviet Union, increasing acclaim as a virtuoso of the Bayan. A two-time first prize winner of Bayan competition in the Republic of Moldova, Stas is a graduate of the Russian Academy of Music in Moscow where he received his Masters Degree in Music under the tutelage of the famed Russian Bayanist, Friedrich Lips. In 1992 he immigrated to the United States.

Stas is an Accordionist, a Musician, an Arranger, an Entertainer and a Teacher. Stas' repertoire includes his original compositions, a broad range of classical, contemporary and ethnic music. He has toured extensively as a soloist throughout the former Soviet Union, Canada, Europe, and the United States, including numerous performances with Doc Severinsen, Steve Allen and with Garrison Keillor on the Prairie Home Companion Show. Additionally, he has performed with symphony orchestras throughout the United States. He performed the world premiere of Concerto No. 2 by Anthony Galla-Rini and also the world premiere of Bayan and Beyond, composed for Stas by Dan Lawitts.

He is a regular participant the Milwaukee Symphony Orchestra's Arts in Community Education Program (ACE); has performed with the Chicago Symphony Orchestra and the Tacoma Symphony Orchestra; has done television commercials and performed in theater productions; produced 15 acclaimed albums including a transcription of Tchaikovsky's Nutcracker Suite for Bayan as well as one of original compositions. He has published several books of original compositions.

Stas founded Accordion XXI Century Series in 2010 so that the Midwest audiences can experience the amazing range of the Accordion and Bayan by bringing gifted artists from all over the world. In a concert setting, these gifted musicians share their skills and cultures to provide the audience with a unique musical experience. The performances feature the Accordion or Bayan in solo presentation and, when possible, in concert with other instruments.

The brilliant artistry and musical virtuosity of Stas afford an expanded dimension in music and an innovative musical adventure to the audience. Beyond his artistry he is a consumate entertainer capable of engaging any audience.
Wednesday, April 25th Noon-1pm
Louis Menchaca
For over 30 years Lou has enjoyed an enviable career as a music professor, conductor and trumpeter at home and on the road.

Since Fall of 1992, Dr. Louis A. Menchaca, Professor of Music, has directed all aspects of instrumental music at CUW. Under his guidance, the Symphonic Wind Ensemble has gained local, regional, national and international attention by performing in concert halls, churches and schools in thirty six states (including Hawaii) and Europe. Current plans are underway for a 2015 international tour to Austria. Other duties include conducting the Chamber Orchestra and Jazz Ensemble as well as serving as department head. He also teaches conducting, music education and graduate music theory review. Music teacher preparation and student-teaching supervision remains a priority in his teaching mission. His band and orchestra alumni hold teaching and administrative positions across the United States.

For more than 30 years, Dr. Menchaca has been a music-maker and producer at the high school, university and professional levels. His collaborative skills have allowed innovative programming in the genres of Jazz, Orchestra, Concert Band, Chamber Winds, Brass, Youth, Pops, Symphonic and Concerto. Affiliated in both academic and professional music circles, colleagues regard him for his inspired, thorough and exciting music-making experiences with both constituents. His professional music associations have enabled the music department to have assembled one of the finest and prolific collegiate applied music staffs in the Midwest.

His Concordia colleagues honored him as "Faculty Laureate" for excellent and inspired teaching. Milwaukee's "M" Magazine named him one of the "Northshore's favorite musicians to watch." He has been elected to Pi Kappa Lambda, Phi Beta Mu, (Wisconsin), the National Band Honorary for outstanding teaching and performance. His trumpet remains an integral part of his life as he leads his own professional brass choir, jazz quartet and big band. He is also an active church musician and recitalist.

He is married to Lorene Anne (MSW) and is father to two very musical boys, Louis Alan (20- University of Wisconsin music education major) and Brent Austin (17- Homestead High School trumpet).
Wednesday, May 23rd Noon-1pm
Katherine Ray , Harp
Katherine Ray has been studying the harp since age eight. She is currently a Senior at the University of Wisconsin – Milwaukee and is studying harp performance under Professor Ann Lobotzke. In 2006 Ray won first place at the WMTA state competition. During high school she was a part of the Sheboygan Area Youth Symphony and was invited to perform in the Young Musical Stars concert in 2014. During her senior year of high school Ray was one of four musicians to win a place in the John Michael Kohler Arts Center Senior Honors Recital and received the Merit in the Arts Scholarship from the Kohler Foundation. During her sophomore year of college Ray was one of twelve students chosen to perform at Lyon & Healy Hall in Chicago after participating in the Auditions and Evaluations put on by the Greater Chicago Chapter of the American Harp Society. Ray has also been featured as a guest performer on the WUWM Radio show Lake Effect.
Photo: Cathedral of St. John The Evangelist by Kelly Ray